Les cotes sont bordees de plages sur 27 km de Limni jusqu'a Ilia. Les plages de galets desertes devant Eleonas sont toujours vides, vous aurez donc toujours l'opportunite de profiter d'une plage privee, meme en plein mois d'aout !
Roulez jusqu'a Agia Anna de l'autre cote de l'ile d'Eubee pour decouvrir une plage de sable fin dore sur 7 km.
En empruntant une piste de velo difficile, vous pourrez decouvrir une chute d'eau entouree d'un panorama spectaculaire dans les montagnes proches de Drimona.
Le golfe d'Eubee est visible depuis Eleonas. La vie maritime est toujours tranquille et riche. Vous verrez briller les lumieres des bateaux de peche la nuit, et avec un peu de chance vous pourrez aussi apercevoir des dauphins. Une sortie de plongee est incontournable !
Les randonneurs et grimpeurs apprecieront les Mt. Candili et Mt. Dirfis, la montagne la plus elevee d'Eleonas, ou il est meme possible de skier en hiver.
Les plages de la baie d'Evoikokos ont des galets. Quoi de mieux? Il n'y a pas de sable a penetrer dans vos yeux et a l'interieur de votre maillot de bain.
Etant donne que les eaux sont si claires, les oursins preferent egalement vivre dans certains endroits. Nous vous suggerons d'avoir une paire de chaussures de mer avec vous.
Vous pouvez facilement rejoindre les plages de la mer Egee, toutes differentes, toutes tres belles.
Rovies Beach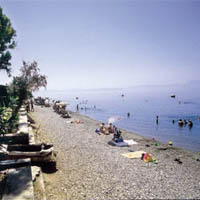 Just 1km from "eleonas hotel" is Rovies beach.
If some of you prefer a drink and others swimming or sunbathing, Rovies beach is ideal.
It offers cozy taverns, showers for rinsing off the sea water, play-ground and benches to rest.
You can swim all day until the sun goes down as the sea is quite warm.
Heracles Beach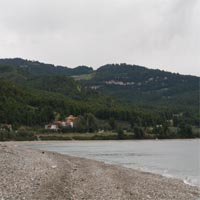 "Kamares" Beach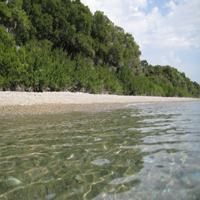 10 minute walk from "eleonas hotel" and this beach is waiting you. The sound of the waves and the bird's tweeting will keep you company. The beach is strewn with small pebbles. Children can create imaginary shapes with shells which are uncovered when the tide is low.
"Kamini" beach
Taxiarchi's Beach
Chronia Beach
South of the village Chronia there is a small pretty pebble bay.
Kohyli beach
"Kanatadika" Beach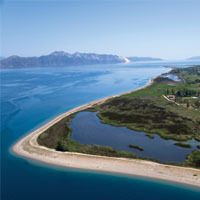 The beach is long and is covered with tiny pebbles.
Are you hungry? You can have a bite in one of the tavernas there with a view of the Pagassitikos Bay across the sea.
Do not forget to have your binoculars with you to watch the birds, which live on the wetland here at the outfall of the stream.
The coast of Edipsos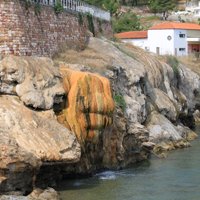 Below the cafeteria "Thermee" in Edipsos the hot waters flow freely into the sea.
You can swim summer or winter and enjoy the beneficial quality of there mineral waters.