Les côtes sont bordées de plages sur 27 km de Limni jusqu'à Ilia. Les plages de galets désertes devant Eleonas sont toujours vides, vous aurez donc toujours l'opportunité de profiter d'une plage privée, même en plein mois d'août !
Roulez jusqu'à Agia Anna de l'autre côté de l'île d'Eubée pour découvrir une plage de sable fin doré sur 7 km.
En empruntant une piste de vélo difficile, vous pourrez découvrir une chute d'eau entourée d'un panorama spectaculaire dans les montagnes proches de Drimona.
Le golfe d'Eubée est visible depuis Eleonas. La vie maritime est toujours tranquille et riche. Vous verrez briller les lumières des bateaux de pêche la nuit, et avec un peu de chance vous pourrez aussi apercevoir des dauphins. Une sortie de plongée est incontournable !
Les randonneurs et grimpeurs apprécieront les Mt. Candili et Mt. Dirfis, la montagne la plus élevée d'Eleonas, où il est même possible de skier en hiver.
Rovies Beach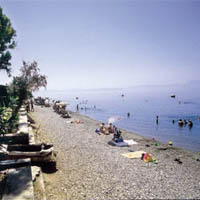 The beaches of Evoikokos bay have pebbles. What can be better ? There is no sand to get into your eyes and inside your bathing suit.
Since the waters are so clear, the sea urchins prefer to live in some places too. We suggest that you have a pair of sea shoes with you.
You can find the beaches on the map.
If some of you prefer a drink and others swimming or sunbathing, Rovies beach is ideal.
It offers cozy taverns, showers for rinsing off the sea water, play-ground and benches to rest.
You can swim all day until the sun goes down as the sea is quite warm.
Heracles Beach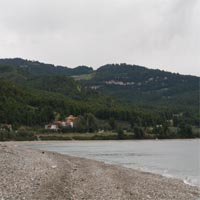 "Kamares" Beach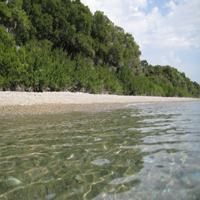 From the village Rovies up to the stream there is a 10 km beach waiting for you. The sound of the waves and the bird's tweeting will keep you company. The beach is strewn with small pebbles. Children can create imaginary shapes with shells which are uncovered when the tide is low.
"Kamini" beach
Taxiarchi's Beach
Chronia Beach
South of the village Chronia there is a small pretty pebble bay.
Kohyli beach
"Kanatadika" Beach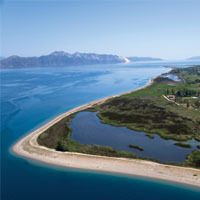 The beach is long and is covered with tiny pebbles.
Are you hungry? You can have a bite in one of the tavernas there with a view of the Pagassitikos Bay across the sea.
Do not forget to have your binoculars with you to watch the birds, which live on the wetland here at the outfall of the stream.
The coast of Edipsos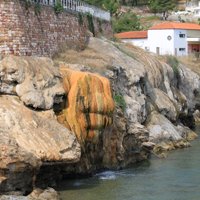 Below the cafeteria "Thermee" in Edipsos the hot waters flow freely into the sea.
You can swim summer or winter and enjoy the beneficial quality of there mineral waters.