Beaches fringe the shore for 27km from Limni all the way to Ilia. The secluded pebbled beaches in front of Eleonas are invariably empty, so it won't be hard to find a beach to yourself, even in August!
Drive to Agia Anna on the other side of the island Evia and discover a 7km stretch of pure golden sand.
A waterfall in spectacular surroundings in the mountains near Drimona is a challenging cycle ride away.
The Gulf of Evia is the sea you view from Eleonas. It is always calm and rich in sea life. You'll see fishermen's lights dotting the sea at night and if you're lucky you will also see dolphins. Snorkelling is a must!
Hikers and climbers can enjoy Mt.Candili and Mt. Dirfis, Evia's highest mountain, where you can even ski in winter.
The beaches of Evoikokos bay have pebbles. What can be better ? There is no sand to get into your eyes and inside your bathing suit.
Since the waters are so clear, the sea urchins prefer to live in some places too. We suggest that you have a pair of sea shoes with you.
You can easily reach the beaches in the Aegean, all different, all very nice.
Rovies Beach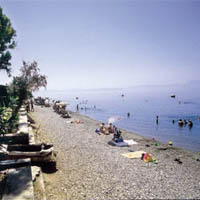 Just 1km from "eleonas hotel" is Rovies beach.
If some of you prefer a drink and others swimming or sunbathing, Rovies beach is ideal.
It offers cozy taverns, showers for rinsing off the sea water, play-ground and benches to rest.
You can swim all day until the sun goes down as the sea is quite warm.
Heracles Beach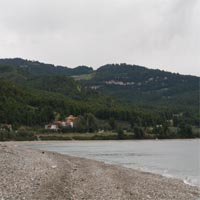 "Kamares" Beach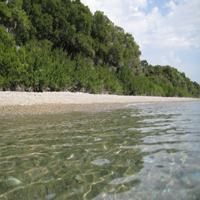 10 minute walk from "eleonas hotel" and this beach is waiting  you. The sound of the waves and the bird's tweeting will keep you company. The beach is strewn with small pebbles. Children can create imaginary shapes with shells which are uncovered when the tide is low.
"Kamini" beach
Taxiarchi's Beach
Chronia Beach
South of the village Chronia there is a small pretty pebble bay.
Kohyli beach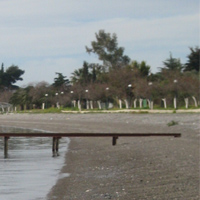 "Kanatadika" Beach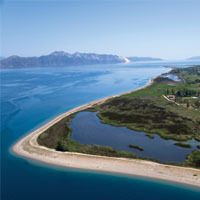 The beach is long and is covered with tiny pebbles.
Are you hungry? You can have a bite in one of the tavernas there with a view of the Pagassitikos Bay across the sea.
Do not forget to have your binoculars with you to watch the birds, which live on the wetland here at the outfall of the stream.
The coast of Edipsos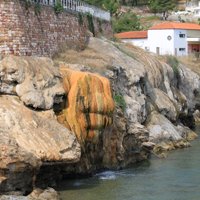 Below the cafeteria "Thermee" in Edipsos the hot waters flow freely into the sea.
You can swim summer or winter and enjoy the beneficial quality of there mineral waters.
Ilia

 

In Ilia the sea water is always warm because it is mixed with the, thermal SPA waters of the area. Swimming here is a pleasure. You also have a great choice of taverns and cafes.